A wise man once told me: "Never recommend a stock to anyone. You're bound to loose. If it rises, they're brilliant. If it tumbles, you're an idiot." In length, I emphasize that the following write-up is not a recommendation. It's merely a collection of reflections that document my reasoning behind my investment decisions, hence allowing me to go back and learn from my mistakes and successes.
Abstract
Matas A/S is a market leading retailer within the Danish beauty and health segment whose stock has dropped 55% in two years due to modest EPS decline, plateaued revenues and discouraging short-term statements from management.
At 72 DKK per share, a stable ~13% ROE moat-like business with historic double-digit EPS and FCF growth is trading at a P/E and P/S of 8.7 and 0.8, respectively.
In terms of valuation, Matas is currently trading at 4.7x EBITDA and offers a 15.8% FCF yield. A relatively conservative DCF analysis applying a 0% growth rate returns an intrinsic value span of ~100-115 DKK per share depending on the discount rate one applies (10-12,5%).
Yes, followers, yet another retailer. You gotta fish where the fish are, right? Today, I'll be covering Matas A/S.
The business
With a 40% market share, 286 brick-and-mortar shops and two e-commerce channels, Matas is the market leader in the Danish health and beauty segment. Matas carries products within the sphere of health, beauty, household and personal care, both high-end brands and 'mass beauty' (low price-point offerings), including its own private labels such as "Striberne".
The stock
Matas went public in 2013 with a price tag per share of 115 DKK. By 2015, the stock peaked at 164 DKK. From here, the stock has been headed south ever since. It's now trading at around 72 DKK per share, which translates into a P/E of 8.7, P/S of 0.8 and a P/BV of 1 (note, however, that Matas is carrying 4.1 billion DKK of goodwill and only 1 billion DKK of tangible assets). Offhand, these ratios appear attractive for a business that consistently returns ~13% on equity and has increased its EPS and FCF with ~13% and ~10%, respectively, since 2010.
What caused this ~55% drop in Matas' stock price over the past two years? First, Matas' top-line has plateaued since 2014, hovering around 3.3-3.4 billion DKK in revenues. In length, the company announced that it wouldn't be able to meet its 2020 objective of reaching 4 billion in revenues. Second, EPS has declined from 9.11 DKK in 2016 to 8.23 DKK (TTM). Management attributes this trend to lower gross margins caused by online retailers and less foot traffic. Matas' response to these challenges has been to run more frequent campaigns that offer deeper discounts in order to maintain top-line levels. Evidently, Matas has succeed in this regard, since the average 'basket price' has increased 6.5% during the past 12 months. Third, management announced during the last earnings call on November 8 that Matas "couldn't promise that short-term growth would be reignited."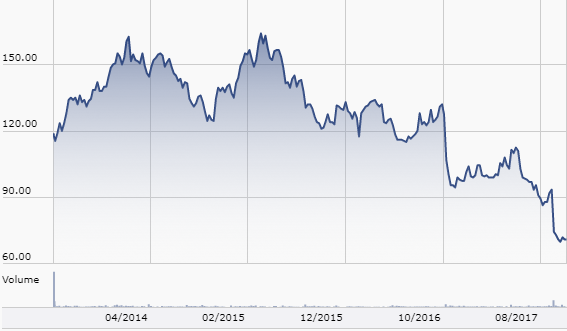 It's not all bad, though..
Just as basically all retailers, Matas has been a victim of the past years' disruption in the retail sphere. However, I spot some positive aspects in Matas that have lured me into the owner circle:
First, one of Matas' moat-like features is its strong brand and stickiness. According to the latest earnings call, 98% of all Danish women are familiar with Matas, indicating a very high level of brand awareness. Though one must consider the company's own statements with a grain of salt, Matas has been elected Europe's second-best rated brand by Reputation Institute. In addition to its market leading market share and number of locations, ~70% of all Danish women between 18-65 are members of the company's loyalty program, Club Matas, which counts 1.7 million members.
Second, Matas just  appointed a new CEO, Gregers Wedell-Wedellsborg, on November 1st. With his past as group managing director and director of e-commerce in one of Denmark's largest consumer goods retailers, Coop, as well as his reputation for driving digital transformations, he offhand appears to be a fitting candidate to fulfill Matas' long-term goal of "re-transforming to the ever changing retail sector" (cf. earnings call of November 8). Matas' e-commerce sales grew 30% during the past year; a trend, which the business intends to fuel further with the appointment of a new e-commerce director, Brian Andersen, who won the Danish e-commerce award in 2015.
Third, management's short-term focus is on 1) cost reductions, and 2) customer-centric initiatives. In terms of the former, Matas is closing down two (of five) brick-and-mortar locations of its subsidiary, StyleBox, while the other locations are transformed into Matas stores. It'll free up resources and people (read: reduce costs) as well as allowing management to focus on the core business: Matas. Furthermore, the company will focus on mergers of closely situated stores (for instance, there are three Matas stores on Bornholm, a small island with only 40,000 residents, so there's surely room for efficiency initiatives). Moreover, Matas will focus on cost-reductions in non-customer facing areas, e.g. back-office, which management expects will increase Matas' 2018/2019 EBITA with 30-40 million DKK. Compared to EBITA expectations for 2017/2018 of 440-470 million, it's a decent increase. For point 2), customer-centric initiatives, Matas will deliver a more attractive value proposition in the mass beauty category, an area where Matas has struggled (whereas the high-end category experiences "solid growth"). This aspiration will be driven by i.e. lowering prices on Matas' private labels and strengthening Club Matas offerings.
Fourth, management announced it'll continue to pay out at least 60% of its earnings in dividends, and distribute excess cash through share buybacks. The TTM EPS of 8.23 translates into a 4.9 DKK dividend per share, or a 6.8% dividend yield with a current share price of 72 DKK. Hence, shareholders are paid to wait for the (hopeful) upswing in the company's stock price.
Valuation
With a market cap of 2.8 billion DKK, TTM EBITDA of 589 million DKK and FCF of 425 million DKK, Matas is currently trading at a 4.7x EBITDA multiple, and offers a 15.8% FCF yield. A (in my opinion conservative) DCF analysis with a 0% growth rate returns an intrinsic value span of ~108-135 DKK per share depending on the discount rate one applies (10-15%, cf. below scheme), hence offering a comfortable margin of safety from current levels of 72 DKK per share.
Risks
Though I believe a zero percent growth rate is conservative, I settled on said number due to the undeniable challenges that exist in the retail space. Matas is offering 'online friendly' products that are easy to order from e-commerce competitors. Matas' most thriving assortment is the high-end category; a category that may prove vulnerable to an economic downturn. The negative trends outlined above may continue if management is not able to regain the past's earnings and FCF momentum. A new low-cost competitor, Normal, entered the Danish market in 2013 and have already opened 80 new stores throughout the country. Though management hasn't said so explicitly, Normal is surely one of the factors behind Matas' shrinking margins. Finally, Matas' balance sheet is not stunning with 1.7 billion DKK in net debt against 1 billion DKK in tangible assets. However, the debt seems manageable at 2.8x EBITDA.
Catalysts
I believe the management team's statements regarding both the short and long-term aspirations seem promising. Though one should remain skeptic to corporate announcements, it appears evident that Matas could benefit from merging stores, shutting down low-growth/loss-generating business areas (StyleBox) as well as an increased focus on its 30% annual growth, 19 million visitors-a-year e-commerce platform. All of these initiatives are embedded in management's "90-day plan" that seeks to "arm Matas to the sharpened competition in the marketplace." The results of these short-term efforts will be voiced on the next earnings call on February 6, 2018.
'Despite' what the 90-day plan might suggest, management has announced that its focus will be on Matas' long-term performance, especially gearing the business to the ever-changing retail space. It'll do so by focusing on two key areas: 1) customer centricity, and 2) digitalisation. I believe Matas is well-equipped to deliver on its ambitions of creating a world-class omni-channel shopping experience due to its wide exposure and popular loyalty program.
As I believe the stock has been oversold due to the reasons stated above, another catalyst might be a mere realization of this overreaction.
Conclusion
Despite obvious challenges in the retail space and a sub-par balance sheet, I believe Matas' stable EPS and FCF, the business' moat-like features, its high dividend yield and the new CEO's ambitions and initiatives make this a promising investment opportunity at current levels.